OUR CORE VALUES
Keep it Simple
Always be extraordinary
Live passionately
Do the right thing
Our growth and success at Halo has kick-started the next step of our evolution. We want high-calibre staff to join our teams around the country – we have so many opportunities across our branches, so get in touch today!
WHAT WE DO
Push the boundaries of what is expected from accident repair centres with our innovative process-driven solutions
Look after our clients with our superb 'best in class' customer service
Provide high-quality workmanship with our famous fast turnaround
Value and respect our staff, encouraging them to work to their best ability and enjoy their work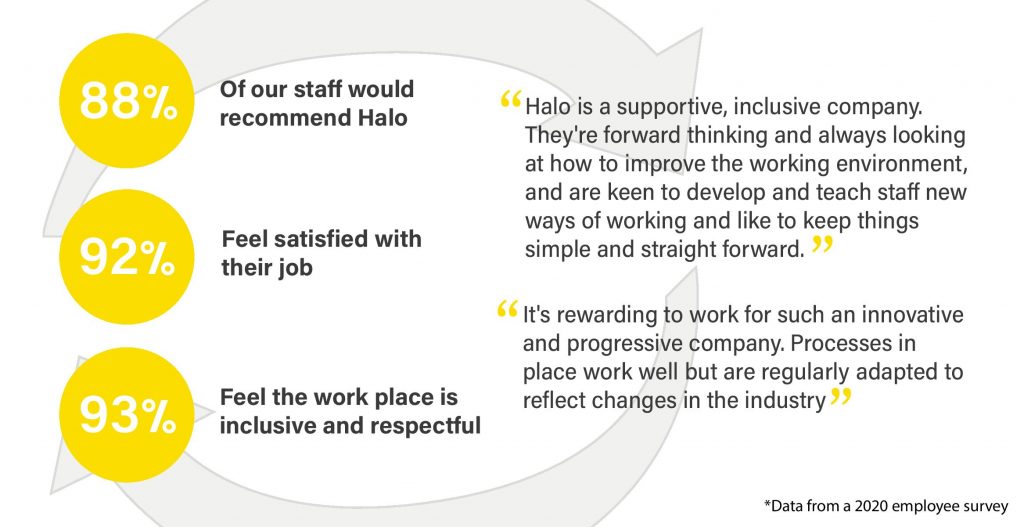 EQUALITY AND DIVERSITY
If you're asking if Halo is right for you, the answer is: yes!
Inclusion is very important to us. We oppose all forms of discrimination, and work hard to promote equal opportunities, foster good working relationships between all staff, and make our employees feel like they are valued and supported.
We are happy to invite all candidates of any age, race, religion, disability, gender and sexuality to the apply:
LET'S TALK
If our core values resonate with you and you have a desire to be a part of the Halo revolution, feel free to send us your CV!
Questions? You can also contact us anytime at HR on 01243 546 185
Current opportunities
High-calibre staff for Halo sites around the country
Location: All Sites
TBC
Looking to break away from the traditional bodyshop? Look no further…
Here at Halo our continued growth and success has prompted further expansion and we are currently looking for high-calibre staff to join our teams around the country. With various opportunities across our branches, Halo are always looking for individuals that can bring something extra to the company whilst promoting our core values.
High rate of pay, to be discussed at interview.